spiders
By Gitie
By Ron House
As a child I was terrified of 'bugs' in general, but I came to an accommodation with spiders when, some years ago, I found that outside our house were lots of redback spiders. I started looking closely at them, and I soon found myself intrigued. They are not aggressive spiders, not at all, but if you lightly touch their back legs, faster than the eye can see they extract from their spinerets and hold out in defence a small glistening white 'net'.
But in doing so they looked to me more threatened than threatening, and I understood why redbacks don't willy nilly make trouble with humans. From then on I have let the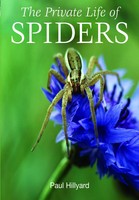 redbacks go about their business without interference.
But it took me many years to discover that one insight into spider life. The Private Life of Spiders gave me so many more thought- and emotion-provoking insights in a few hours of enjoyable reading and viewing.
I say "viewing" because of the remarkable photographs. The pages are a colour-filled wonderland. All the images in this post are from the book courtesy Princeton University Press.
We have webs, like frosting on the morning grass glistening with dew; spiders in riotous extremes of colour, like the translucent red, green and yellow Orchard Spider; spiders on colourful flowers; and more. And every single image is a top example of photographic skill. read more »